In April, starting "Health Visualization Project" demonstration experiment to visualize health conditions from urine and to promote behavioral changes
In April, starting "Health Visualization Project" demonstration experiment to visualize health conditions from urine and to promote behavioral changes
Participation by First Screening Corp., NTT DATA MSE Corporation, Kobayashi Pharmaceutical Co., Ltd. and other parties
The three companies of First Screening Corp. (Representative Director: Yohei Kanazawa; hereinafter called "FSC"), NTT DATA MSE Corporation (Representative Director and President: Hidenori Tsuzuki; hereinafter called "MSE") and Kobayashi Pharmaceutical Co., Ltd. (Representative Director and President: Akihiro Kobayashi; hereinafter called "Kobayashi Pharmaceutical") will start a "Health Visualization Project" (hereinafter called the "project"), which is a demonstration experiment to visualize health conditions by using urine, raise awareness about health and to promote behavioral changes from April 2022 in a step by step manner.
FSC developed a sensor to measure the constituents of urine from a few drops of urine, which is called the Hakareru Series. Participants in the project will use this sensor to manage daily health conditions with a special app. We will check if incorporating health management food, exercise and other healthy activities in daily life and viewing the results in figures will lead to a state where participants will address health activity in a more positive light.
Taking advantage of achievements from this project, Kobayashi Pharmaceutical will take the initiative towards general sales of the Hakareru Series based on FSC technology, while MSE will target the development of services.
Targets of this project
Medical and nursing expenses in Japan are increasing annually, posing a serious challenge to society. As the establishment of "preventive measures" to maintain health on one's own is needed, it has become important in the field of medicine and health to encourage people to voluntarily take favorable action without being forced to do so. In addition, "data health reforms" to effectively utilize medical and health data and take advantage of them for one's health management on one's own initiative are also attracting attention.
In this project, it is checked as to whether ordinary citizens will be encouraged to raise their awareness about health and voluntarily change their behavior by visualizing their own health conditions in figures and really appreciating the results of healthy activities.
Overview of this project
1. Test description
Test subjects will use the Hakareru Series sensor developed by FSC to measure the constituents of urine and manage their daily health conditions with a special app. During the test period, they will eat health management food and do healthy exercise as proposed by the app and check the results of their activities by reviewing collected figures. After the completion of the experiment, we will check what kind of changes occurred in the consciousness and behavior of the test subjects.
2. Test period (planned)
56 days for each of the following subject constituents:
Uric acid / Urinary sugar: Starting from April 2022 in series
Sodium/Potassium: Starting from May 2022 in series
3. Test subjects
About 200 or more healthy people to be publicly recruited
4. List of participating companies and organizations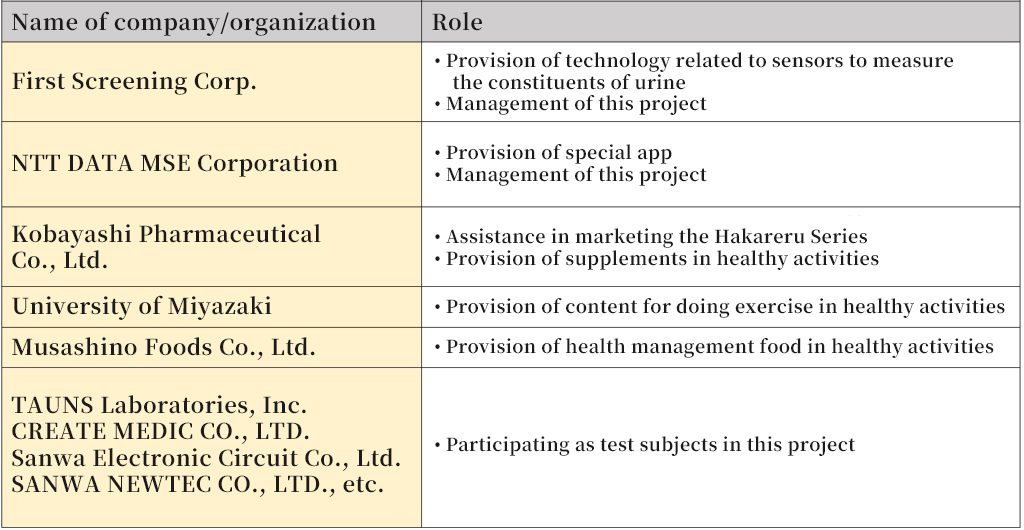 5. What is used in the experiment
•Hakareru Series sensor to measure the constituents of urine
By mounting a stick to the measurement device and applying a few drops of urine to measure uric acid, urinary sugar, sodium and potassium. Sticks are disposable for sanitary use.
Measured data analyzed and stored on the cloud can be checked or managed from smartphones and other terminals.
[Features]
Conventionally, weight and blood pressure measurements are used to check on the results of healthy activities such as diet and exercise at home.
The Hakareru Series can easily and more precisely visualize health conditions by using urine or "a treasury of health information" that is excreted from the body.
[Conceptual figure]


•Blood collection kit
In this experiment, in addition to daily measurements of the constituents of urine, those of blood are also measured by using a blood collection kit for the purpose of comparison.
• Healthy activities (example)
Test subjects will address the following healthy activities, especially ingestion of health management food:
・Health management food (bento)
・Supplements
・Proposal of healthy exercise* and health recipes (in app)
*Healthy exercise: physical activities to be addressed with a target by focusing on mental and physical health conditions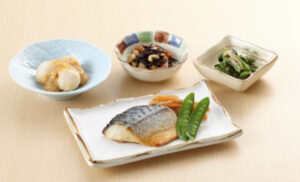 *Conceptual health management food Kenko Bizen by Musashino Foods Co., Ltd.
Press and media contact information
First Screening Corp. (Person in charge: Sakairi)
Tensho Office Yoyogi ANNEX 312,
1-30-14 Yoyogi, Shibuya-ku, Tokyo, Japan 151-0053
Phone: +81-50-3559-1319
NTT DATA MSE Corporation (Person in charge: Sato/Saito)
Concurred Yokohama 12F,
3-1 Kinkocho, Kanagawa-ku, Yokohama-shi, Kanagawa, Japan 221-0056
Phone: +81-50-3823-3000
Public Relations and Investor Relations, Kobayashi Pharmaceutical Co., Ltd.
PR-1 Group (Osaka): +81-6-6222-0142 PR-2 Group (Tokyo): +81-3-5602-9913