Linking Between Vehicle-Mounted Devices and Smartphones
Middleware for vehicle-mounted devices that link with
smartphones to achieve rapid smartphone operations from vehicle-mounted devices
About linking between vehicle-mounted devices and smartphones that NTT DATA MSE offers
This is middleware for linking vehicle-mounted devices to smartphones that realize rapid smartphone operations from vehicle-mounted devices. Our proprietary connection control is achieved by using connection interface (I/F) that is equipped as standard on many smartphones.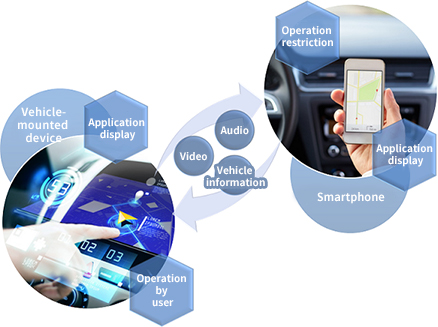 Smooth operation of smartphone applications from vehicle-mounted device side
Our proprietary connection method enables smartphone applications to rapidly respond to operations on the side of the vehicle-mounted device.
Driver distraction reduction function realized
This function is realized by the transmission of vehicle information from the vehicle-mounted device and the installation of a launcher application for a vehicle-mounted device on smartphone.