Secure OS [TOMOYO Linux]
Introducing TOMOYO Linux with high-security strength
Improving security of Linux
As open-source software, Linux is widely and steadily used in digital equipment including cellular phones and electric home appliances and various other devices around the world. By using TOMOYO Linux that is distributed as a security-strengthening function for Linux, development with reduced security risks can be carried out.
Features of TOMOYO Linux
TOMOYO Linux prevents unauthorized operations on a kernel level, thereby assuring a high level of security.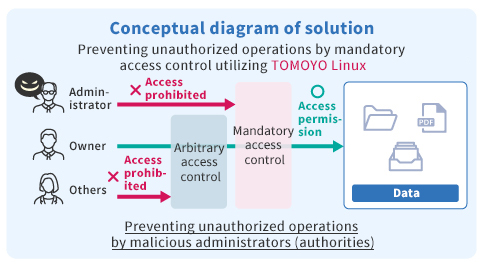 High-security strength
TOMOYO Linux prevents unauthorized operations with root privileges as access is controlled on Linux kernel level.
Easy implementation
No special hardware is required, as implementation is done solely by software.
Flexible customization
Security policies can be freely customized under security requirements.
TOMOYO is a registered trademark of NTT DATA Corporation.
Linux is a registered trademark or trademark of Linus Torvalds in Japan and other countries.