NTT DATA MSE works to provide high-quality solutions that satisfy our customers while also working to establish development standards and improve processes.
Establishment of development standards
NTT DATA MSE sees the provision of solutions that please our customers as the goal of all our activities. Based on our ISO15504 certification, we define each individual development activity as a process in order to assure the satisfaction of our customers by working night and day to establish development standards that ensure the stabilization of our development processes.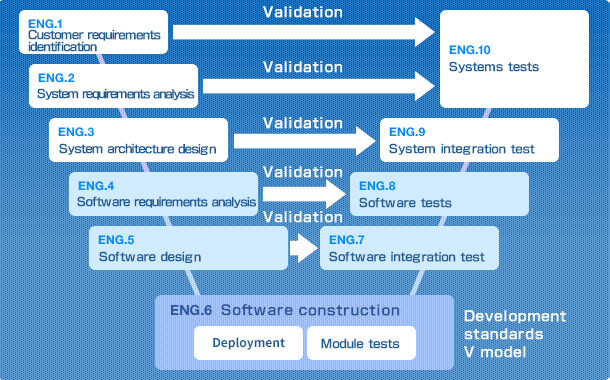 Process improvement
All activities of the organization exist for the purpose of creating solutions that we provide to our customers. Changes that occur within customers and within the social environment require that our processes constantly change. We also possess the universal corporate mind that change is required in order to achieve constant improvements to quality. While maintaining the balance between these concepts, we work continuously to improve our processes. As part of our efforts to provide a sense of security to our customers, we will continue with activities aimed certifications based on evaluations by external organizations (1996/ISO9001 [Cloud Solutions Business Division, Mobile Platform Business Division, CMM Level 3).
Environmental Conservation Activities
About our environmental commitment
Today, the world is facing a major shift toward global environmental conservation and how a corporation approaches environmental issues has become a major factor in how the value of a corporation is evaluated. As members of the NTT DATA Group, every employee at NTT DATA MSE maintains a solid awareness of the company's role towards and the importance of global environmental conservation. Through our software development, we work to promote energy and resource conservation in all business segments as we look to contribute to the realization of a recycling-based society and coexistence with the global environment.
Environmental Policy
NTT DATA MSE Corporation strives to realize a "Smart Life Community," which is a convenient lifestyle that easily connects anything anytime, anywhere via the provision of IoT service solutions. We recognize the importance of environmental conservation and the prevention of pollution and through the following activities, aim for "coexistence between business activities and global environment protection" and accomplish our corporate responsibility.
(1)

For individual domains from system design to development and maintenance, we aim to improve environmental conservation through environmental contributions from our main business, the promotion of energy and resource saving, reduction of waste, etc.

(2)

We make efforts to continuously improve the environment and prevent pollution.

(3)

We comply with all environment-related laws and regulations as well as other requirements that we have agreed to.

(4)

To accomplish this policy, on the basis of requirements by laws and regulations in addition to environmental aspects we own, we will annually establish environmental objectives and goals, to be reviewed on a regular basis.

(5)

We will implement and maintain this policy with the environmental management system while making it universally known by all employees, on-site resident vendors and contractors to request their understanding and cooperation.

(6)

This policy will be openly disclosed to the public.
June 2022
Makoto Tokiyoshi
Board Director
ISO14001
As a framework for promoting environment conservation activities, we established an environment management system. And in September 2002, we obtained certification.
Scope of application
Scope of site: Head Office (3-1-9 Shinyokohama, Kohoku-ku, Yokohama-shi, Kanagawa, Japan)
Registered scope of business: Software development and maintenance of equipment and its application systems in the field of communications, audio, video, information and control
Scope of subjects: Head Office employees, on-site resident vendors and temporary employees
*ISO14001: Environment management system standards defined by the ISO (International Standards Organization) aimed at the continuous reduction of environmental burden.
Environmental conservation activities
As per corporate-wide environmental targets, we are engaged in the following initiatives.
(1)

Conduct activities within our main business that contribute to environmental conservation.

(2)

Efficient use of electricity in order to prevent global warming.

(3)

Reduce paper usage in order to protect forest resources.
Enlightenment activities
Our company promotes company-wide environmental activities and works toward the continued improvement of environmental performance. We proactively conduct informational and enlightenment activities to increase awareness among employees regarding the importance of the environment and work to create a corporate culture in which all employees work together toward environmental policies.
Newly hired and mid-career recruits receive environmental education as a part of their employment training and each individual work site uses workplace reviews and meetings as an opportunity to conduct education about general environmental activities as well as training on how to separate waste to be discarded.
Furthermore, as a part of community environmental conservation activities, we regularly partake in road-side cleaning activities.
The NTT DATA Group achieves promotes group-wide secure knowledge distribution based on the establishment of both "ensuring information security" and "the proactive utilization and sharing of information.
" The Group also works to establish information security governance.
Information security
Our company embraces these fundamental management guidelines as we strive to earn the satisfaction and trust of our customers through by providing superior technology, products, and services.
1.

Information Security Structure
In each organization, an information security responsibility system is established and appropriate management is achieved through the establishment and implementation of specific regulations.

2.

Information Asset Management
The handling of information is clarified and managed appropriately based on importance and risk level to ensure information security.
With the three elements of confidentiality, veracity, and availability, we prioritize confidentiality based on the fact that we handle information from both customers and suppliers.

3.

Education and training
We continuously conduct education and training concerning information security for all executives and employees, and work toward increased awareness and the enforcement of information security regulations. Persons in violation of regulations are dealt with severely, including the possibility of termination.

4.

Products and services that provide a piece of mind
We give due consideration to the information security of our customers and work to provide products and services that our customers can feel comfortable using.

5.

Legal compliance and continued improvements
In addition to compliance with relevant laws and other regulations, we work toward continued improvements to information security to match changes in the business environment.
June, 2022
CISO Makoto Tokiyoshi
ISO27001
On January 15, 2010, our company obtained ISO27001 certification, the international standard for information security management systems (ISMS). Moving forward, we will continue to position information security as one of our core management strategies and work toward the continued improvement of our information security.
About certification acquisition
Certification registration date:January 15, 2010
Certification No. :4666844
Through our daily corporate activities, we work to build trust-based relationships with society.
Compliance initiatives at NTT DATA MSE
CRO Makoto Tokiyoshi
As a member of the NTT DATA Group, our company strives to be a corporation that is trusted by society.
In addition to our corporate code of ethics, our initiatives to achieve our corporate social responsibility (CSR) and basic principles for legal compliance are based on regulations outlined for the entire NTT DATA Group.
Through the daily corporate activities of each employee, we work to build trust-based relationships with society.
NTT DATA Group Code of Ethics
In order to achieve indefinite growth as a corporation, the trust of our customers, shareholders, transaction partners, and from society is vital. A company can earn trust by maintaining an awareness of CSR (corporate social responsibility) while working to increase the satisfaction of customers and stakeholders.
The NTT DATA Group is a corporate group that uses information technology to create "frameworks" and "value" while embracing its social mission to achieve an enriched and balanced society.
Based on this awareness, the NTT DATA Group believes that it is possible to earn trust, the most valuable of all corporate assets, by maintaining strict compliance with laws and contracts, conducting socially responsible actions, and by practicing fair and transparent business activities.
In light of the above, the NTT DATA Group acts in accordance with our "Fundamental Stance Concerning Corporate Ethics" and puts forth every effort toward being a trusted corporate group.
Fundamental Stance Concerning Corporate Ethics
Principles

Strive to be a trusted corporate group.

For customers

Provide high-quality services.

To our shareholders

Conduct transparent management.

Against competitors

Conduct fair and free competition.

To contractors

Conduct transactions on equal standing.

To government organizations

Maintain healthy relationships.

To society

Fulfill our responsibilities as a positive corporate citizen.

For the environment

Promote environmentally-conscious business activities.

For employees and collaborators

Respect individual traits and personalities.
Declaration of
Health Management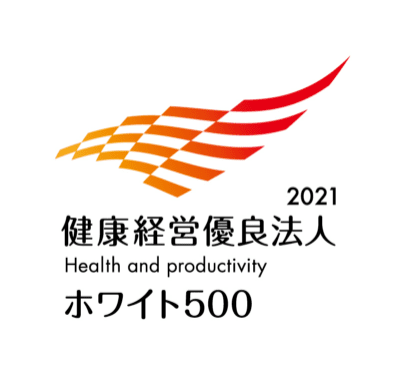 We are actively engaged in various health-related initiatives as part of corporate management. We believe that promoting the good health of our employees enhances their motivation and productivity, which in turn leads to the company's growth and development.
We will not only contribute to society through our business operations, but also create an environment where our employees can continue to work in good mental and physical health, and where they and their families can enjoy a healthy lifestyle.Representative Director and President Hidenori Tsuzuki
Structure for promoting health and productivity management (H&PM)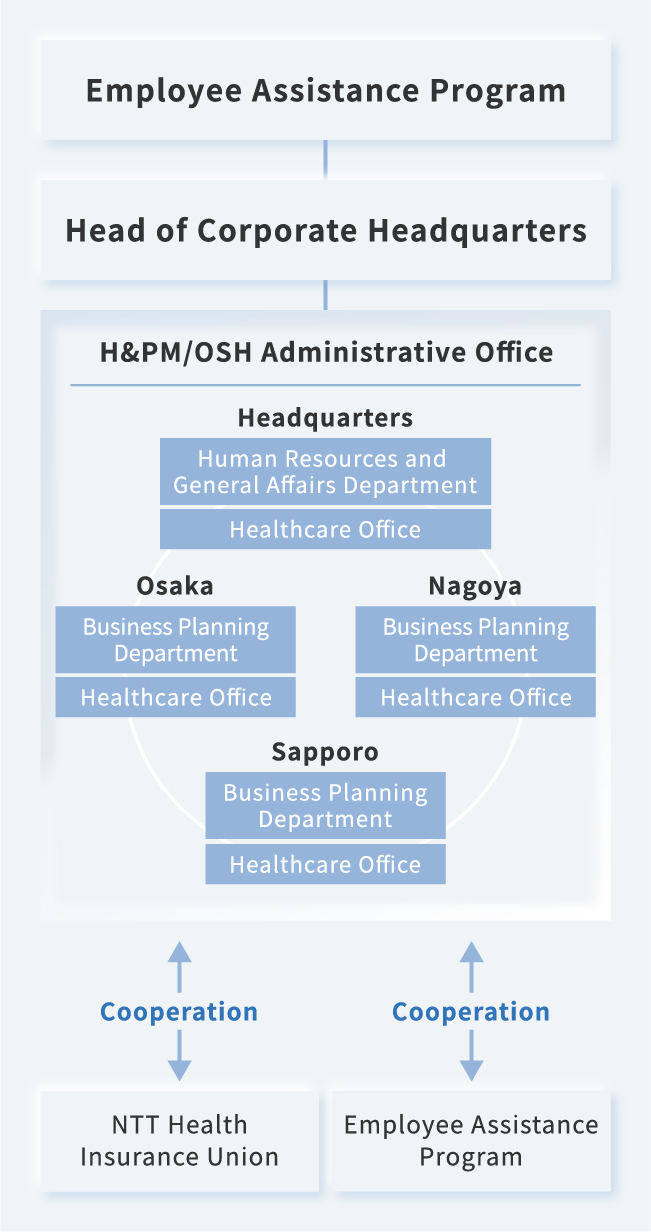 H&PM Strategy Map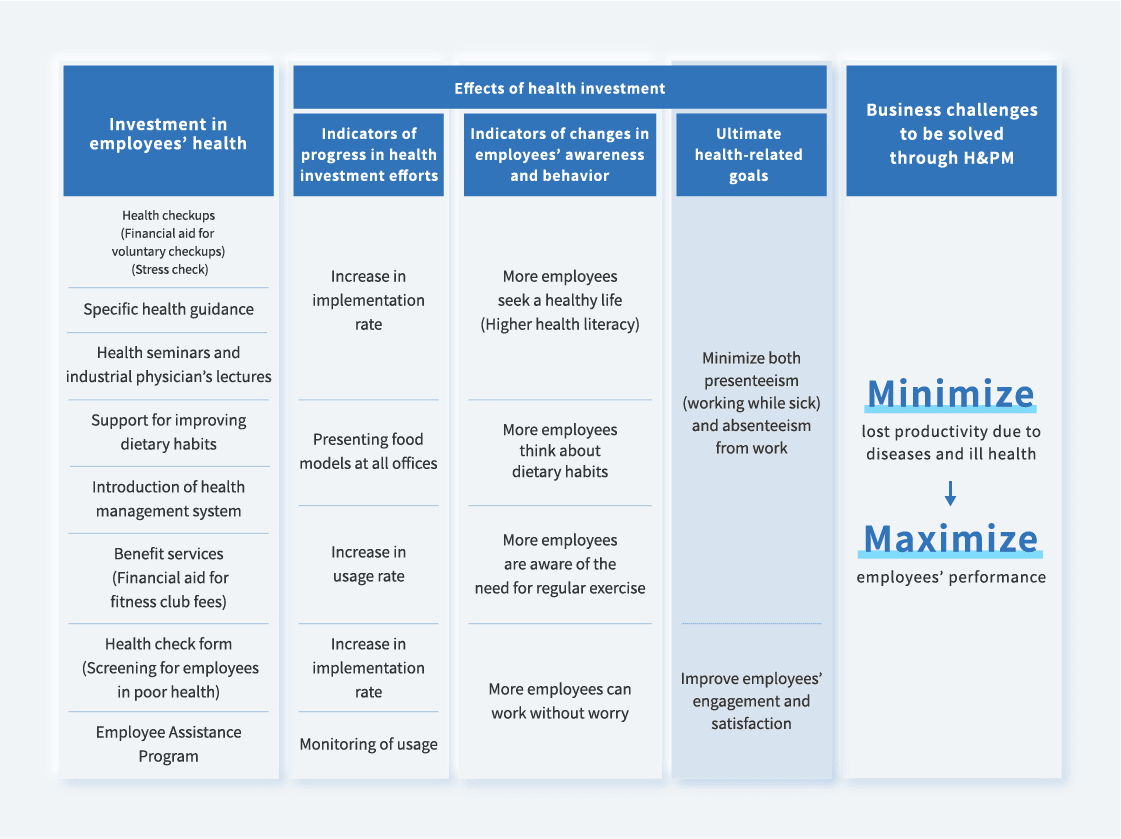 Key initiatives
Improving the screening of employees with health issues and follow-ups

Improving screening with health survey forms (once to twice a year)

Follow-up skills improvements of public health nurses and nurses via training

Promotion of measures to improve health literacy

Cultivation of knowledge on health through video distributions of lectures from industrial physicians

Implementation of self-care education on mental health by public health nurses

Reviewing content of items implemented in various health examinations

Reviewing content of health examinations and study of improvements in view of the early identification of illnesses

Reconsidering how to conduct group health examinations (in view of post-COVID-19 era)
About indicators of health and productivity management